Past Events
We'll keep you posted on where Labours of Love Designs is going to turn up in the real world!

Sunday, May 1, 2011 Spark ::: ignite their potential - www.ignitethespark.ca
Spark, sponsored by TELUS, is a chic, edgy and unique afternoon honouring the lives of inspirational Canadians and the people who first recognized their potential.
Co-hosted by Leslie Roberts and Anne Mroczkowski, co-anchors of the News Hour at 6 on Global Toronto, this inaugural event will celebrate the launch of the Children's Aid Foundation's new Ignite the Spark Fund and will feature a dazzling theatrical fashion event in which our honourees will be presented in couturier designs by Carolina Herrera, Oscar de La Renta, J. Mendel, Marchesa, Christian Dior, Elie Saab, Zuhair Murad, Giambattista Valli and Vera Wang Visit the website!

Deb at Queen's Park for a press conference about Bill 179 to help kids in foster care, and the families who want to adopt them.
Visit the book "Labours of Love" website?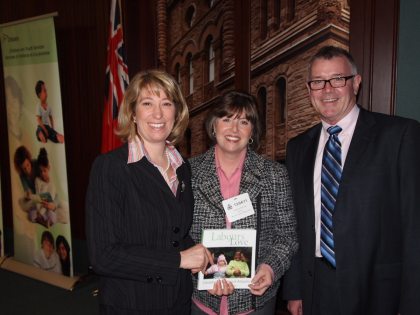 April 13, 2011- A good day for the adoption community in Ontario. Laurel Broten, Minister of Child and Youth Services, introduced Bill 179 to the legislature. A start to amending adoption legislation to improve outcomes for kids in care. Here I am with Minister Broten, and my fab M.P.P and tireless supporter, Kevin Flynn! Onward and upward!
November is Adoption Awareness Month!
Adoption Touches Everyone and to celebrate Adoption Awareness Month Labours of Love Designs is in the spotlight on the Lovable Labels website. Please visit the website www.lovablelabels.ca/and you can see our feature page at www.lovablelabels.ca/StaticPage.aspx?id=26
AdoptWalk 2010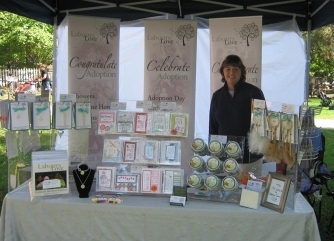 AdoptWalk 2010 was a success! The clouds stayed away, and it really
was a lovely day. Families and friends turned out for a fun 5k walk,
barbeque and activities for the children. 15 % of my sales went to the
Adoption Council of Ontario. I look forward to next year!!
The 2nd Annual AdoptWalk 2010, was held in Toronto, on September 26th
www.adoption.on.ca or Canada www.adoption.ca

NACAC , North American Council on Adoptable Children August 4-7, 2010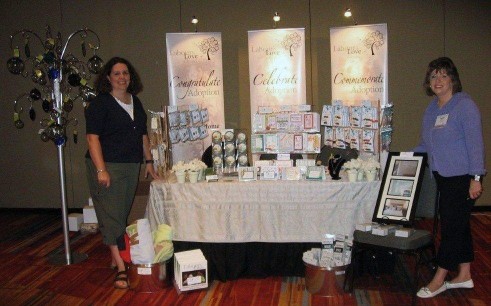 "Labours of Love Designs" made it to Hartford! After MUCH preparation....my friend Tania and I made the trip to Hartford Connecticut to attend the NACAC conference from Aug.4-7. The exhibit and all the merchandise made it there before us, care of a customs broker (complicated) and all in one piece!!
The exhibit looked great, the reviews were very positive, and all who stopped by loved the cards and gift selection! Everyone was excited about the business, asking when it would be available online, folks had many ideas about how it could benefit their agencies/families and themselves personally. We were offered lots of good feedback on more options for cards and other gifts....we were exhausted but pumped!!
NACAC, North American Council on Adoptable children is the largest North American organization that works tirelessly for foster/adoptive children and families in a myriad of ways that all will benefit and ensure positive outcomes. The conference is an annual event, and I highly recommend taking part, anyone professionally or personally, take part... it is an inspiring event. Visit www.nacac.org for more info on the conference and NACAC.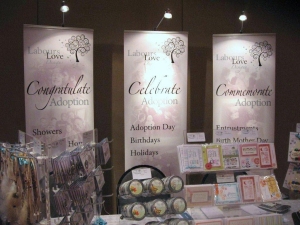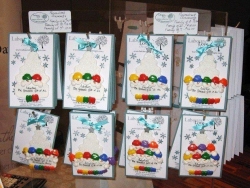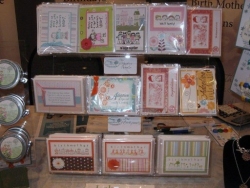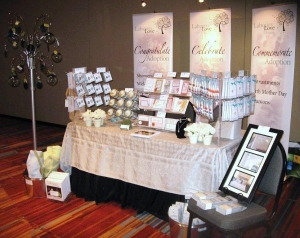 The inception and launch of Labours of Love Designs was helped so much from the following companies. I appreciate their professionalism, design expertise and patience in bringing my dream to life! Many Thanks to:
Barkley Print & Copy, Oakville, Ontario - www.barkleyprint.com logo and business cards
Laven Industries Ltd., Markham, Ontario- www.laven.com labels, giftcards, stickers
Wm. Prager Ltd., Toronto Ontario- www.wmprager.com custom display fixtures
Custom Sign Solutions, Oakville, Ontario - www.customsignsolutions.ca - custom banner exhibit signs
CPS Inkworks, Oakville, Ontario- www.CPSInkWorks.com - photo enhancement for website
NBS Consulting, Burlington, Ontario - www.nbsconsulting.com - web design